Music Quotes on T-shirts
Music quotes on t-shirts soothe the savage breast, or something like this. Actually, wearing funny music quotes on t-shirts shows the world what a great musician or fan you really are. Some of the most famous music quotes are featured here, so show your support by buying a few t-shirts today.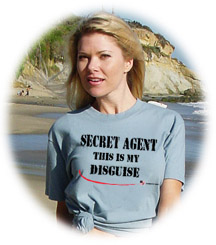 MU1. I don't know anything about music. In my line you don't have to.
- Elvis Presley
MU2. There is nothing stable in the world; uproar's your only music.
- John Keats
MU3. There is always music amongst the trees in the garden, but our hearts must be very quiet to hear it. - M. Aumonier
MU4. Words make you think a thought. Music makes you feel a feeling. A song makes you feel a thought. - E.Y. Harbug
MU5. Music melts all the separate parts of our bodies together.
- Anais Nin
MU6. Music that gentlier on the spirit lies Than tired eyelids upon tired eyes. - Alfred Lord Tennyson
MU7. Without music, life is a journey through a desert. - Pat Conroy
MU8. There are two means of refuge from the miseries of life: music and cats. - Albert Schweitzer
MU9. Music expresses that which cannot be put into words and that which cannot remain silent. - Victor Hugo
MU10. In music one must think with the heart and feel with the brain.
- George Szell
MU11. Too many pieces of music finish too long after the end.
- Igor Stravinsky
MU12. Music washes away from the soul the dust of everyday life.
- Red Auerbach
MU13. Country music is three chords and the truth. - Harlan Howard
MU14. A good composer is slowly discovered and a bad composer is slowly found out. - Ernest Newman
MU15. Without music, life would be an error. The German imagines even God singing songs. - Friedrich Nietzsche
MU16. Wagner's music is better than it sounds. - Mark Twain
MU17. Music should never be harmless. - Robbie Robertson
MU18. Give me a laundry list and I'll set it to music.
- Gioacchino Antonio Rossini
MU19. Is it not strange that sheep's guts should hale souls out of men's bodies? - William Shakespeare
MU20. Jazz will endure just as long people hear it through their feet instead of their brains. - John Philip Sousa
MU21. A good composer does not imitate; he steals. - Igor Stravinsky
MU22. Jazz came to America three hundred years ago in chains.
- Paul Whiteman
MU23. Composers shouldn't think too much - it interferes with their plagiarism. - Howard Dietz
MU24. You are the music while the music lasts. - T. S. Eliot
MU25. A jazz musician is a juggler who uses harmonies instead of oranges. - Benny Green
Hear what musicians say about these music quotes on t-shirts:
Some of these funny music quotes on t-shirts make me squirt milk out my nose. I'm telling you, these music quotes are some of the best I've seen anywhere, serious and funny. I'm showing my support right now by wearing three t-shirts with music quotes on them all one on top of another. You can't buy these music quotes on tees anywhere else, so its important to buy right now without delay.
- Tom DeLay