Inspirational Quotes on T-shirts
Inspirational quotes on t-shirts help you to ascend to new heights, or depths depending upon the desired direction. The funny inspirations quotes on this page feature all sorts of amazingly famous sayings on t-shirts. From throughout history, people have been saying quotable and funny things including slogans, so we've decided to put these brilliant witticisms on t-shirts.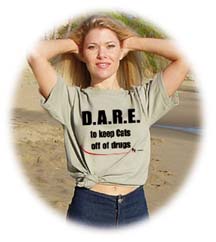 IQ1. The greater the obstacle, the more glory in overcoming it. - Moliere
IQ2. When it is dark enough, you can see the stars. - Charles A. Beard
IQ3. Vision: the art of seeing things invisible. - Jonathan Swift
IQ4. A morning-glory at my window satisfies me more than the metaphysics of books. - Walt Whitman
IQ5. It is good to have an end to journey toward; but it is the journey that matters, in the end. - Ursula K. Le Guin
IQ6. How many cares one loses when one decides not to be something but to be someone. - Coco Chanel
IQ7. Somewhere there is something incredible waiting to be known.
- Carl Sagan
IQ8. Life is a Daring Adventure. - Helen Keller
IQ9. The journey of a thousand miles begins with a single step. - Lao Tzu
IQ10. It is never too late to be what you might have been. - George Eliot
IQ11. Whatever you can do, or dream you can, begin it. Boldness has genius, power and magic in it. - Goethe
IQ12. One must still have chaos in oneself to be able to give birth to a dancing star. - Nietzsche
IQ13. May you live all the days of your life. - Jonathan Swift
IQ14. You are pure potential. - Maat
IQ15. Our truest life is when we are in dreams awake.
- Henry David Thoreau
IQ16. Do what you can with what you have where you are.
- Theodore Roosevelt
IQ17. Man is free at the moment he wishes to be. - Voltaire
IQ18. No bird soars too high if he soars with his own wings.
- William Blake
IQ19. You must do the thing you think you cannot do. - Eleanor Roosevelt
IQ20. Appreciation is a wonderful thing; it makes what is excellent in others belong to us as well. - Voltaire
IQ21. You cannot plough a field by turning it over in your mind.
IQ22. Should you yield the canyons from the windstorms, you would not see the beauty of their carvings. - Elizabeth Kubler-Ross
IQ23. Do not go where the path may lead, go instead where there is no path and leave a trail. - Ralph Waldo Emerson
IQ24. Imagination is the highest kite one can fly. - Lauren Bacall
IQ25. One can never consent to creep when one feels an impulse to soar. - Helen Keller
IQ26. Life isn't a matter of milestones, but of moments. - Rose Kennedy
IQ27. There are two ways of spreading light - to be the candle or the mirror that reflects it. - Edith Wharton
IQ28. Think it more satisfactory to live richly than die rich.
- Sir Thomas Browne
IQ29. You don't get harmony when everybody sings the same note. - Doug Floyd
IQ30. We make a living by what we get, but we make a life by what we give. - Sir Winston Churchill
IQ31. Be yourself. Who else is better qualified? - Frank J. Giblin II
IQ32. To live is so startling it leaves little time for anything else.
- Emily Dickinson

IQ33. A deadline is negative inspiration. Still, it's better than no inspiration at all. - Rita Mae Brown

IQ34. Everyone is trying to accomplish something big, not realizing that life is made up of little things. - Frank A. Clark
Hear what the drop outs are saying about these inspirational quotes on t-shirts:
These inspirational quotes on t-shirts make me want to be a better man. They surely do, lads and lasses. Since wearing these t-shirts with inspirational quotes on them, I've stopped drinking, stopped driving, stopped shaving and altogether dropped out of society. Man, this is living! I've reached new heights in meditation from wearing these inspirational t-shirts. In fact, I meditate 18-hours a day, I do. In fact, I do nothing else but meditate. I'm quite a drain on society, I must admit now. But, I'm happy! And, I owe it all to the inspirational quotes on these tees!
- Bob the monk